This Beer Bulletin was penned by Mat Johnson, Five Boroughs Brewing Co.'s Head of Brewing and Quality Management.

From harvest to Halloween to the Thanksgiving table, Pumpkin Ale is the ideal accompaniment to autumn. Brewed with pumpkin, a medley of base and specialty malts, and a touch of mixed spices, this beer offers fresh baked aromas perfect for crisp fall days. A slight, earthy hop charge provides balance.
ABV: 6.0%

Malts: 2-Row, Carared, Carafoam

Hops: Cascade, Chinook

Availability: 12oz/6pk cans
Let's start with the easy stuff. What flavors and aromas can beer drinkers expect to encounter when sipping on a Pumpkin Ale?

Each batch of Pumpkin Ale is made with real spices and fresh pumpkin. Rich flavors of cinnamon, nutmeg and pumpkin are complemented by aromas of allspice, caramel, and warm pumpkin pie.

You mentioned that Pumpkin Ale is brewed with real pumpkin and mixed spices. How are each incorporated during the brewing process?

Fresh pumpkin puree is added directly to the mash and our proprietary pumpkin spice blend is added late in the kettle just before knockout.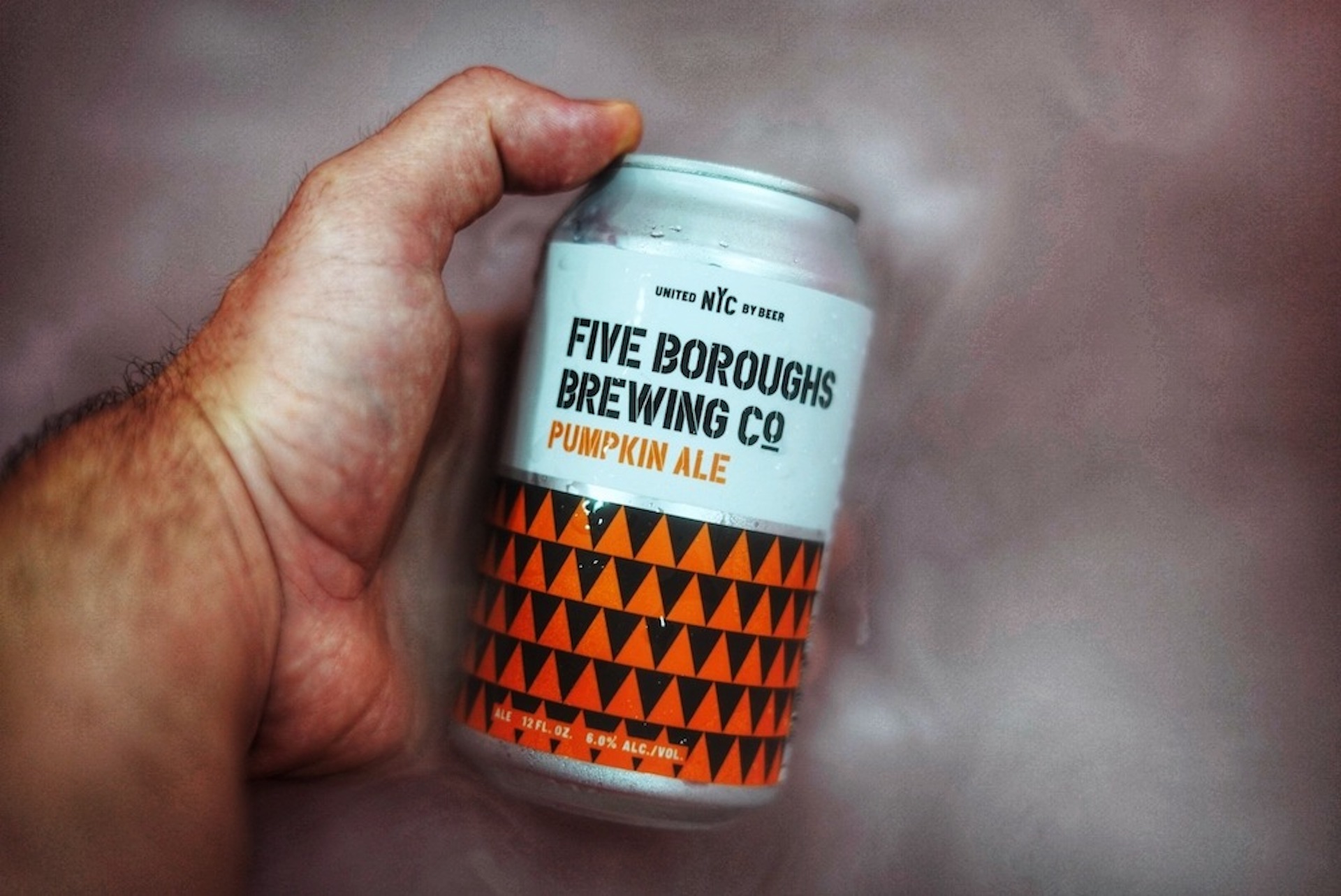 Photo credit: Sean Abrams

What makes Five Boroughs' Pumpkin Ale different than other pumpkin beers on shelves?
The subtlety of the pumpkin spice flavor and aroma is what sets this beer apart from other renditions. It's well-balanced and drinkable, not overpowering or offensive. We weren't going for anything over the top here, just a sessionable brew perfect for the pumpkin spice aficionado.

Other than Pumpkin Ale, what are your go-to Fall beers?

pFriem Octoberfest and Freiheit! Octoberfest by Wayfinder. 
--
Appearance: Thick white foam on top of a pumpkin orange body.

Aroma: Cinnamon, pumpkin rind, fresh ground spice.

Taste: Pumpkin pie, caramel, allspice.

Mouthfeel: Finishes with a soft, creamy, and fluffy mouthfeel.

Food Pairings: Fatty meats - duck, pork, and braised meat. Fall vegetables: squash, yams, and carrots. Sweet bread, pumpkin pie, and carrot cake.